As my brother was studying for one semester in Istanbul, I took the opportunity to visit him on two occasions. The first trip was only 4 days long in march to visit Istanbul. My second trip lasted a little bit longer and we visited the coast around Antalya and Cappadocia.
Istanbul
I went there in mid march and unfortunately it was exceptionally cold for the season. It even snowed for a few hours! Nevertheless it was 4 days of intense walking and visiting in the humbling city that is Istanbul.
The city is at the frontier between Occident and Orient and has been an economical and cultural center for more than 2000 years. The Bosphore, a stretch of water between the Black Sea and the Sea of Marmara splits the city in half, one side on the European continent another in Asia.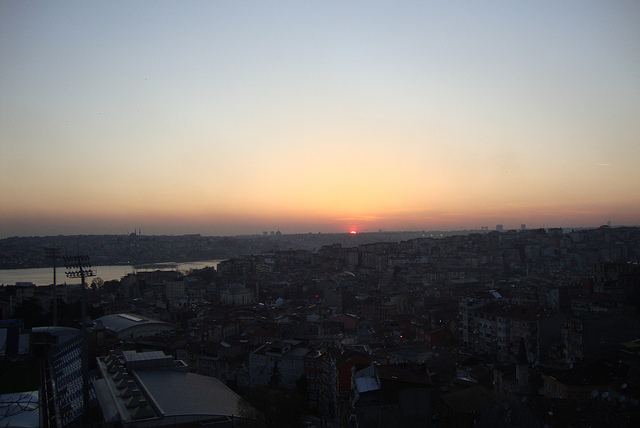 Beautiful monuments, centuries-old mosques and many other antique constructions are scattered throughout Istanbul. The city is made of lots of small streets that go up and down between the hills on which it is built on.
Hagia Sophia is the place that impressed me the most. The grandiosity of this nearly 1500 years old building is awe-inspiring. The Cistern of Philoxenos are very close to the old church and also are an unmissable visit.
Istanbul is not only about history but is very much turned towards the future. I loved the blending of old and new that you see in so many shops and restaurants.
They are not many things to visit on the Asian side and we stayed there only a very short time but the crossing is worth it, at least for the very crowded boat trip. The difference between the two side is immediately noticeable.
I went back in Istanbul in June to meet my brother before taking the plane to Fethiye. The summer had arrived this time and the city was even more enjoyable.
Fethiye
We flew off to Dalaman from Istanbul's Sabiha Gökçen airport using Pegasus. There are lots of low coast airlines in Turkey which makes traveling around the country really affordable. It was a short 1 hour bus ride from Dalaman to Fethiye.
Fethiye is a coastal town with a marina and no beaches. However it is located in a beautiful bay surrounded by mountains. There are many boat trips available to discover beautiful and sometimes hidden locations along the coast.
The boat trips are really cheap (we paid 30 TL per person) and last from 10:00 to 18:00, lunch included. We choose a trip that went to Butterfly Valley, Blue Cave and St. Nicholas Island. It was a great day.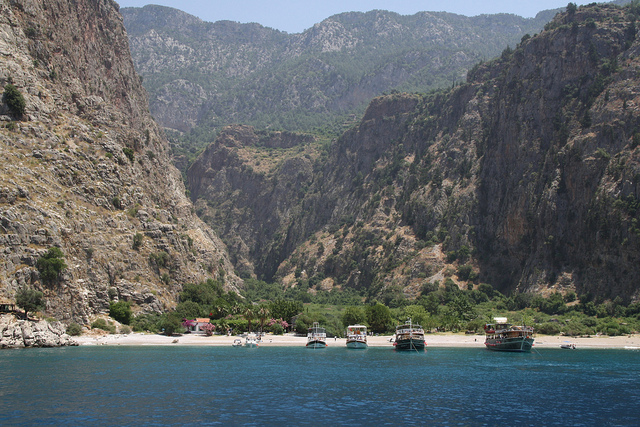 The following day we rented a car in the morning to go to the Saklikent Gorge. This was a great move because we arrived before the tourists buses and were mostly alone in the gorge. This canyon, at 300m deep, is one of the deepest in the world. There is a wooden path above the water for the first 100m. After that it's all by feet.
You really feel like an adventurer while walking in the water (about 20cm deep). Sometimes the current can become a bit fast. The touristic part ends with a waterfall. We continued a little bit after the fall where the path becomes narrower and where it's even more beautiful.
Later in the afternoon we took the bus to Antalya. Turkey has an amazing bus network (much better than in North America). Many bus companies have displays in each seats with Turkish TV, the radio and a media player. Wifi may also be available.
Antalya
The evening of our arrival we walk around the old town, where we stayed. It has a lot of charm but did not really feel old, it has too much new constructions.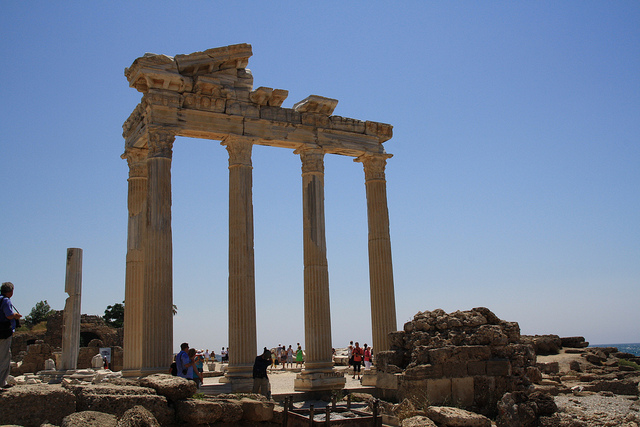 The next day I went on a day-trip to visit the antique city of Perge, the Apollon temple in Side and Aspendos Amphitheater. It's amazing being able to walk in millennia old ruins. The Amphitheater is beautiful and as an impressive acoustic. I always loved the grandiosity of roman buildings.
In the evening we took a night bus to Goreme, tiring but by far the cheapest option.
Cappadocia
We arrived in Goreme at sunrise, rested in the morning and went to the Goreme Open Air Museum in the afternoon.
Cappadocia is an historical region with beautiful landscapes and a lot of history and culture. It is well known for its fairy chimneys.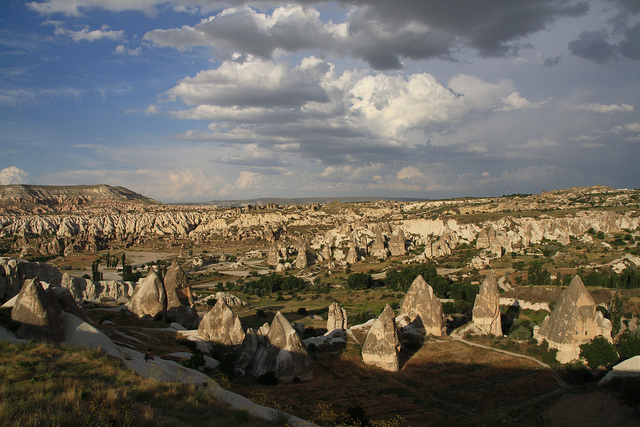 The region was mostly inhabited by early Christians who built underground cities and lots of houses and temples in the mountain sides. We visited the underground city of Kaymaklı, the largest one. It's hard to imagine hundreds of people living in such a maze of small rooms. Claustrophobic beware!
As the region has an important religious history there are churches and temples everywhere. Most of them had painted walls but few places with well conserved paintings remain. The best preserved church is in the Goreme Open Air Museum.
The surrounding of Goreme is also a perfect place to hike. There are multiple valleys with lots of trails. On our last day we left from Goreme, hike down the Love valley to Uchisar Castle and back to Goreme through Pigeon valley. It was beautiful and I would greatly recommend doing it. It took us about 5 hours.
Finally, we did an hot air balloon flight which is a must-do in Cappadocia. It starts in the very early morning and last approximately one hour. The sight of tens of balloons taking off in front of the beautiful landscape is impressive. Ballooning feels like gliding above the ground and is a really pleasant experience.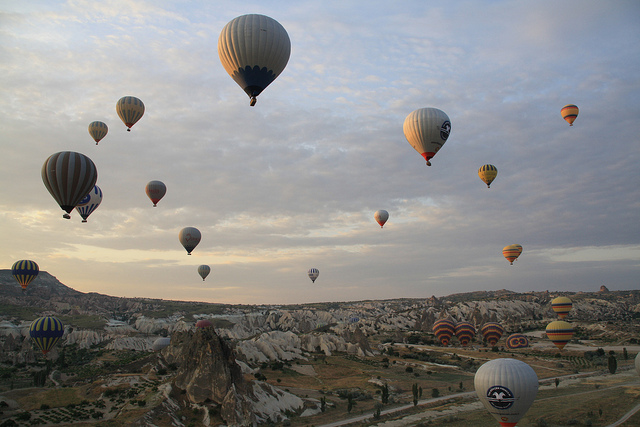 That was it for us. We took a Pegasus flight back to Istanbul before going back to France. Turkey is a really beautiful country with an impressive historical background and I enjoyed every part of it.

Check out all the photos related to this post on Flickr »