Arriving in a Northen Indian city is always kind of a challenge. You are immediately surrounded by people trying to sell you something and taxi or rickshaw drivers. Jaisalmer was the worst but Delhi is not far behind.
We got out of the station in search for a rickshaw to our booked hotel. Fortunately, we had stopped in Delhi 2 weeks before on our way to Varanasi so we knew where the hotel was located and the distance from the station. This helps when negotiating but we still had to haggle a lot to find a transport. A rickshaw driver calmly explained to us that it was normal he was asking so much, because he won't have a commission at our hotel. Like I don't that!
Anyway, we settled in the best hotel we stayed in during our whole trip, Amax Inn in Arakashan Road. It was OK clean, had a good mattress and a powerful shower! Great quality/price ratio.
Delhi was our last stop and we only planned a couple of nights there. The train arriving at noon and I leaving early in the morning, this gave us only a day and a half to visit the city. According to fellow travelers, this was plenty enough.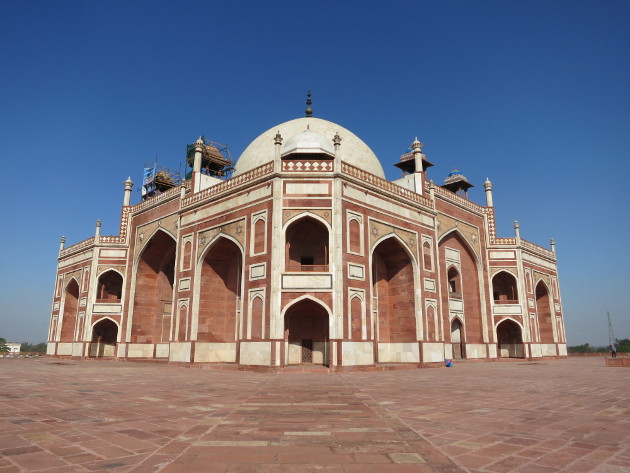 I must say I was not impressed by Delhi. The Red Fort, while being impressive from the outside, is in a very bad shape on the inside. It clearly needs a lot of restoration work. The National Museum has some interesting insights of past Indian cultures. The best place was Humayun's Tomb which was the inspiration for the Taj Mahal and is surrounded by a peaceful garden.
Delhi is a tiring city and a couple of days there was plenty enough. On top of that, I wasn't in my best shape as I was still tired from my Jaisalmer adventures.
---
India is crowded, tiring, dirty and people seems to not care about it. At the same time, people are genuinely nice (outside of tourist areas…) and there are really beautiful sights.
While we had a great trip there, I don't see myself ever loving it. It's a very interesting country and surely one that needs to be visited but I've been to much better places with lots of history and beautiful landscapes which does not share all the worst aspects of India.
I liked the South much more than the North. While the history and the forts are very interesting and I liked them a lot, the cities are much more crowded, dirty and it feels like people are less welcoming. The South is more relaxed and I wouldn't mind returning to it.
I had planned to go to the Southeast at first but we had to scrap that. Travel time between cities is longer than I expected and visiting Puducherry and Chennai would have been in a rush. One month is clearly not enough to visit a country as big as India.
Stay tuned for Southeast Asia!

Check out all the photos related to this post on Flickr »