Last stop in Vietnam in the capital city of Hanoi. Although I spent a few days there, I'm a bit ashamed to say that I didn't do much visiting. I mostly walk around the Old Quarter.
The town is very busy with the usual crazy Vietnam traffic. The Old Quarter is a maze of small streets packed with shops, restaurants and bars. Life only seems to slow down late at night.
You can clearly feel the difference in the neighborhoods as you walk around the Hoan Kiem Lake. I would recommend doing it as it takes only a few hours. The south of the lake is already very different than the Old Quarter with more upscale places and less crowded streets.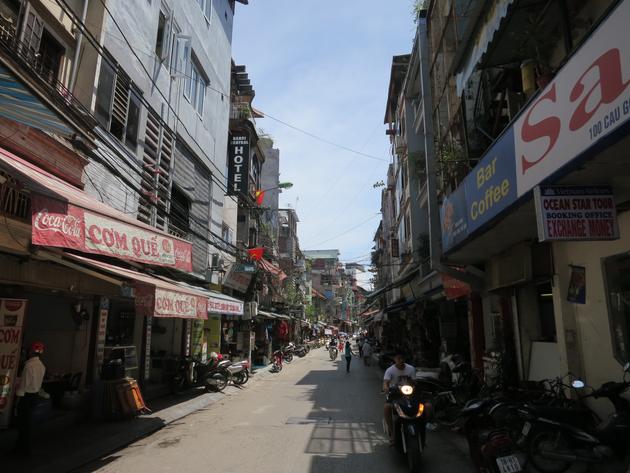 I splurged a bit on the accommodation as Vietnam was one of the last countries where I could afford a nice hotel (for almost the same price as a dorm in Australia…). I can only recommend the hotel I stayed at, the Calypso Legend Hotel, which was beautiful.
Although I preferred Ho Chi Minh City, Hanoi is unmissable and more convenient as it can be the hub of your Vietnam travels. I also had a lot of fun and learned a lot about the local culture as I made some great local friends.
My three weeks in Vietnam were much better than expected. I had this weird a priori about the country where I imagined it would be somewhere between Cambodia and Thailand. I also had heard very mix reviews by other travelers. In reality, I found a booming country, which in many aspects is more developed than Thailand, with lots of things to visit, beautiful landscapes and friendly people. I really loved Vietnam and will definitely go back.

Check out all the photos related to this post on Flickr »