How could I miss one of the symbol of Australia? Uluru, the rock in the middle of Australia (ie. nowhere), was a must do on my list. It was a long way from Darwin to reach Alice Springs, my longest bus ride yet, 22h through the desert. From there I embarked on a three days camping tour.
The Rock Tour is quite famous and you'll find information about it in pretty much all hostels around Australia. For 355 $AU you join a group of 20 to camp for two nights and visit King's Canyon, Kata Tjuta and Uluru.
As with all these kind of tours, half the fun depends on the group you're in. I was lucky to get a great one and had three awesome days. Aside from the camping, the camp fires and the marshmallows, the tour was well organized, the guide was nice and everything went smoothly.
On the first day, we stopped at King's Canyon. The sight is really beautiful and the bottom is like an oasis.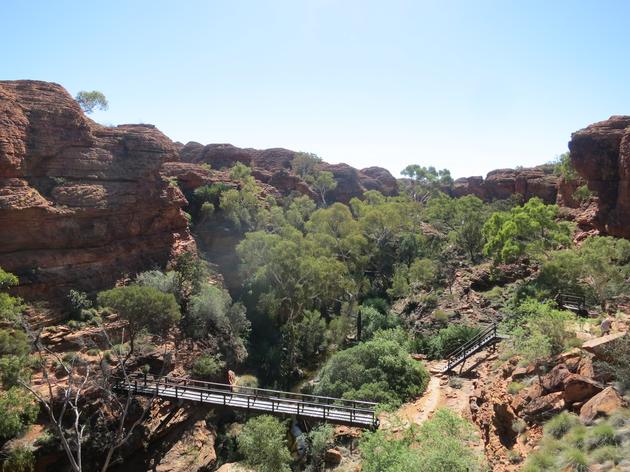 You only get a glance at Uluru on the first day as the bus stops for the night. The rock is actually kept for the end as the next day starts with a visit of Kata Tjuta. Less famous than the rock, it is located in the same National Park but is considered by many to be a better sight than its counterpart.
The walk in the middle of these rounded mountains is magical. One of the viewpoint reminded some of us of the valley of The Land Before Time.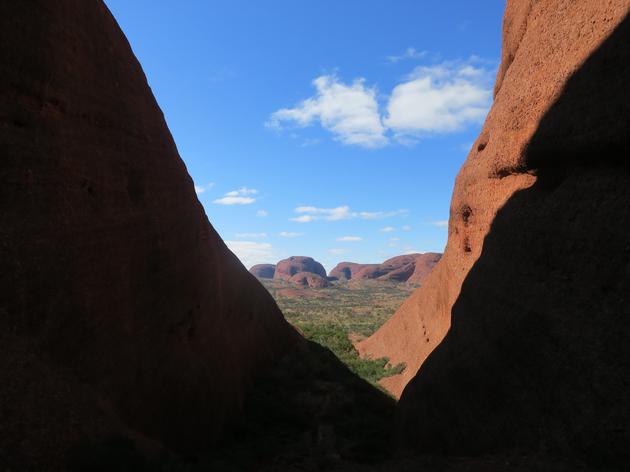 The afternoon of the second day was our first real encounter with Uluru. After a quick learning stop at the Cultural Center, we followed the trail of the Mala Walk. The sights of this rock is mind blowing. For me, we could have been on another planet and I would have not been surprised as the landscape is surreal.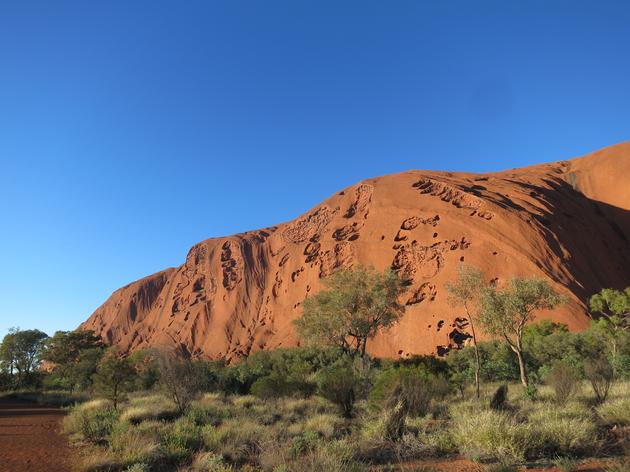 The day ends as the sun sets on the rock. After a cold night (1°C!) and watching the sun rise behind Uluru, some of us walked the nine kilometers trail around it (the Base Walk).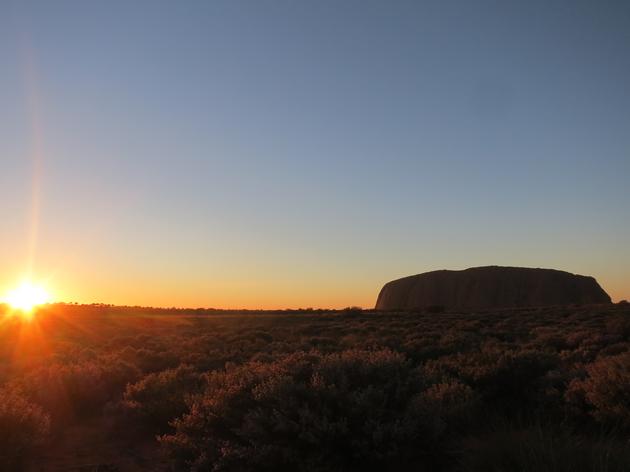 People who say that Uluru is just a rock, either have never seen it or are missing something. For me, the price was well worth the sight and the whole park offers something magical, more than just a geological formation.

Check out all the photos related to this post on Flickr »