I've been moving a lot lately and doing so much that I kind of forgot to update the blog. Oups! But this also means that great stuff is coming: amazing landscapes and thrilling activities have been filling up my time ;)
I crossed over from Argentina to Chile through the Andes moutain range, a beautiful route where you can take a very brief peek at the Aconcagua. It took me 2 hours to cross the border because of the strict procedures of Chile. Don't forget you sweater because it's chilly at 2000+ meters.
Arriving in Santiago main bus station I jumped in the subway to get to my hostel. The noise and the train instantly triggered my memory and I was back in Paris for a few seconds! The trains are indeed the same models as the line 1 in the French capital. By the way, Santiago has a very good metro system which, being a firm believer of public transportation, is a great sight.

I spent the next two days walking around the city. There is not a lot to do in the Chilean capital but the hostel I was staying at was great. The very well made Museum of XXX presents the tragic events of the Pinochet dictatorship and a must do to get a better understanding of the country. A walk to the top of Santiago's hills provides some great views.
Two hours away of the capital is Valparaiso, commonly known as Valpo, an artsy city built on hills facing the ocean. Colorful wooden houses and old colonial buildings are the trademark of this busy place. Famous for its parties, the beaches of Villa del Mar are also very close.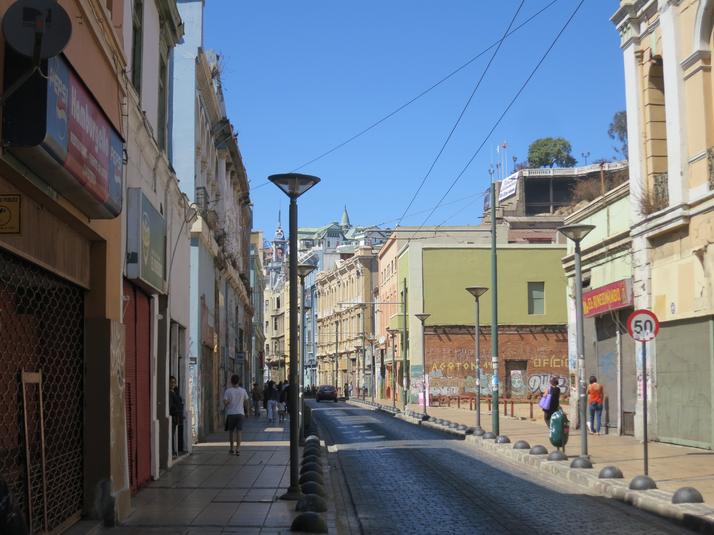 I didn't plan to stay long in Chile which is quite unfortunate as the south seems to have a lot to offer. I'm heading north, ready for the longest bus ride I've ever taken…

Check out all the photos related to this post on Flickr »